The hard fork that created Bitcoin Gold hasn't worked out for speculative investors thus far. On Oct. 23, Bitcoin Gold opened at $479.82, but has fallen today (Thursday) to $130.34.
Bitcoin, in comparison, climbed 7% today and is pushing near its all-time high of $6,000.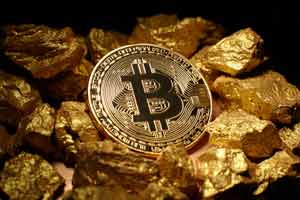 The price of Bitcoin increased by about $550 in the last 24 hours as markets shake off concerns about the Bitcoin Gold hard fork.
There have also been a few rumors that Amazon.com Inc. (Nasdaq: AMZN) could announce plans to accept Bitcoin on its platform during its Thursday earnings call. However, those rumors are based on pure investor speculation.
Also in cryptocurrency news, markets were largely unfazed by statements made by the governor of the United Arab Emirates (UAE) central bank.
Mubarak Rashed Al Mansouri has raised concerns about the lack of supervision around the cryptocurrency industry and suggested that Bitcoin is being used for illicit activity.
"Some nations have announced that they are not using Bitcoin, and consequently, its value sharply plummeted. In addition, it can be easily used in money laundering and in funding terror activities," the central banker said.
Below is a recap of the top cryptocurrency prices at 11:00 a.m. EDT
Bitcoin: $5,934.55, +7.25%
Ethereum: $298.48, +0.64%
Ripple: $0.20, +0.64%
Bitcoin Cash: $337.80, +2.92%
Litecoin: $56.44, +2.32%
Now that we know all of today's price movements, here's what has been moving these cryptocurrencies…
Cryptocurrency Markets Today
On Thursday, the total market capitalization of the global cryptocurrency sector hit $172.0 billion. That figure is nearly $7.5 billion higher than levels hit on Wednesday. Bitcoin's market capitalization comprised 57.4% of the total crypto market capitalization.
Top performers from the largest 100 cryptocurrencies by market capitalization included Edgeless (up 30.89%), Populous (up 22.57%), Syscoin (up 21.46%), SmartCash (up 18.35%), and Dentacoin (up 18.13%). Meanwhile, Sprouts increased by 1,826.33% on the day. The incredible uptick came despite low volumes and questions about the coin's functionality.
The worst performers from the top 100 largest cryptocurrencies by market capitalization included ATMChain (down -21.97%), TRON (down -9.45%), ZenCash (down -9.31%), Walton (down -7.76), and Ubiq (down -6.24%).
Bitcoin Snaps Back to $6,000 Range
The Bitcoin market capitalization topped $98.8 billion Thursday after prices jumped more than 7.2% in the previous 24 hours. The uptick has been fueled by declining expectations for the new currency created by the new hard fork and increasing optimism from Wall Street analysts.
Standpoint Research analyst Ronnie Moas recently forecasted that Bitcoin will hit $50,000 per token over the next decade. Moas predicts that Bitcoin will hit a $800 billion market capitalization by the end of 2022.
Markets didn't pay much attention to the news that South Korea's central bank announced that Bitcoin is not a currency.
The central bank designated Bitcoin as a commodity, a ruling similar to what U.S. regulators have said in recent months.
Ethereum Continues to Retreat from $300
The Ethereum price just can't break above $300 no matter how many positive reviews are received over its recent Byzantium upgrade.
Bitcoin Cash Gets a Bump
The price of Bitcoin Cash received a surprise bump Thursday.
The gains came on the back of lagging enthusiasm for new rival Bitcoin Gold. The newly forked currency has no institutional support and almost no technological community to advocate on its behalf.
Bitcoin Bubble?
While Moas is hyper-bullish on Bitcoin, alternative asset manager BlackRock is chiming in. The company's chief investment strategist, Richard Turnill, said that there isn't a "right or wrong" price for Bitcoin.
But he did warn that the Bitcoin market has "many characteristics of a bubble."
The company is reportedly interested in the transformational impact of blockchain technologies in the future.
However, Turnill isn't expecting that Bitcoin prices will increase as a result of the technological adoption.